The Nintendo GameCube or GameCube was Nintendo's sixth-generation video game system and was the successor to Nintendo 64. It was launched in Japan and North America in 2001 and European Countries in 2002. In the US, the GameCube launched with a retail price of $199.99 alongside 12 titles, which include games such as Crazy Taxi, Dave Mirra Freestyle BMX 2, Luigi's Mansion, Wave Race: Blue Storm, Super Monkey Ball, Star Wars Rogue Squadron II: Rogue Leader and Tony Hawk's Pro Skater 3. Indigo was the only GameCube console color available at launch, but eventually, Nintendo released more colors such as Jet Black and Platinum Silver. Many other variations came out, but they were often limited edition colors that were only available for a limited time and served as promotional items that came bundled with the launch of different games, such as the Samus Aran painting on the Metroid Prime 2: Echoes Edition GameCube. GameCube was the first Nintendo system to use a game disc format instead of cartridges. The game system was shaped like a cube and had a carrying case on the back of it for easy transport. On the top, it had an Open button for the disk drive, a Power button, and a Reset button. At the center, it had the disk drive which played a unique mini-DVD format. The small size of the disk player did not allow standard DVD's or audio CDs to be played. On the front of the system, there were 4 controller ports which allowed up to four players to play split-screen multiplayer in many games. Two memory card slots were located under the controller ports. The cards come in three official sizes such as the gray Memory Card 59' 512 KB of memory, the black Memory Card 251's 2 MB, and the white Memory Card 1019's 8 MB. The GameCube supported online gaming for a small number of games such as Phantasy Star Online, with the use of a broadband modem adapter that was sold separately by Nintendo. A Game Boy Advance could be used as a controller with the use of a special link cable for the Gamecube and allowed the player to access exclusive in-game content and features. This included viewing maps or other useful in-game information on the Game Boy Advance's screen. The GameCube was not backwards compatible but with an attachment called the Game Boy Player, it was able to play Game Boy, Game Boy Color, and Game Boy Advance games.
The GameCube's controller received positive reception of its controller design and it seems Nintendo learned from the Nintendo 64's poor design and negative feedback. Unlike the N64's three handled controller design, the GameCube controller had a two-handled controller design, similar to PlayStation's popular design. Not to copy Playstation's design with two analog sticks on the bottom, one was switched to the top in place of the D-Pad. The controllers had a built-in vibration feedback instead of requiring you to purchase a Rumble Pak like the N64's design. On the top of the controllers, you have an L trigger on one side and an R trigger on the other side along with a Z button. The L and R triggers each were pressure sensitive and upon fully being pressed made a click that counted as a different button command. On the left side of the controller you have an analog joystick and underneath it, you have a D-pad. On the right side of the controller, you have X, Y, A, B buttons and an analog C stick. The A button is oversized and color-coded green and acts as your main button in many games. The B button is colored red and is the smaller than all the rest and not used that often. In the middle of the controller is the Start button. The controllers come in Indigo, Black, and Platinum colors. A wireless controller was introduced in 2002 that was called the WaveBird Wireless Controller. It was one of the first wireless controllers invented for game consoles. The design is similar to the standard controller except being a little heavier and bulky since a wireless receiver is added to it. The WaveBird has a channel selection dial on top of it as well as an On/Off switch. It has no wires or rumble features and comes with a receiver that you plug into one of the controller ports on the GameCube. It comes in Light Grey and Platinum colors.
In GameCube's first three days of its launch in Japan, it sold between 280,000 and 300,000 units from its 450,000 launch shipment. In North America, during its launch weekend, it managed to sell over $100,000,000 worth of GameCube products. The console became sold out in many stores and was selling faster than both of its main competitors. Luigi's Mansion was GameCube's most popular launch title and according to Nintendo, sold more at launch than Super Mario 64. Star Wars Rogue Squadron II: Rogue Leader and Wave Race: Blue Storm were also popular launch titles. By December 2001 in the US, GameCube sold over 600,000 systems. By March 31, 2003, it just fell short its initial goal of 10 million units at 9.55 million units worldwide.
The Nintendo Gamecube competed with Sony's PlayStation 2 and Microsoft's Xbox and was $100 cheaper than both of them. Reception of the GameCube was mostly positive. It was praised for its controller design, 600+ game library, high-quality games, and cheap price. It was however criticized for its exterior design, lack of more games having online gameplay, and being a toyish console for kids. Nintendo GameCube was discontinued in 2007. In its lifetime it sold 21.74 million units worldwide. During its lifetime it stayed 3rd in console sales, beating the short-lived Dreamcast's 9.13 million units sold, but trailing slightly behind Xbox's 24 million and far behind PlayStation's 155 million unit sales. GameCube's lifetime sales did not manage to pass its predecessor's, Nintendo 64's 33 million unit sold. In November of 2006, the Nintendo Wii was launched and it was backwards compatible to a majority of the Gamecube Library. Many games that released for the first time on the Gamecube ended up becoming popular Nintendo Franchises on later systems. This includes games such as Pikmin, Chibi-Robo, Luigi's Mansion, and Metroid Prime. Its best selling game was Super Smash Bros. Melee which sold 7 million copies.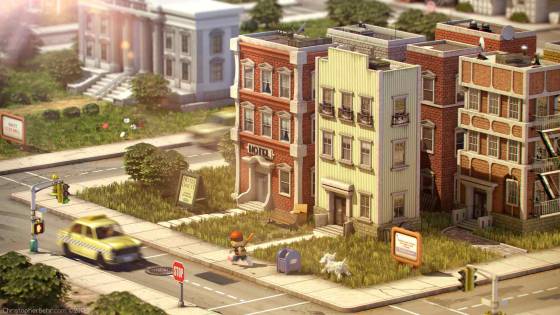 Former Xenogears developer reveals images behind a proposed GameCube Earthbound idea from 2003.
Posted 1 month, 10 days ago
A beloved series is finally set for a comeback after a trading of hands; the future indeed looks perfect.
Posted 1 year ago