Adventure Island 3 Cheats, Codes & Secrets

---
Last Updated on Aug 16, 2023

This page contains cheats, hints, Easter eggs, secrets, and tips for Adventure Island 3. We will continually update this page when we come across more useful cheats and tips.
Adventure Island 3 Cheats For NES
Level Select
To access the level selection screen, at the title screen, press Down, Up, Left, Right, B, A, B, A. If you entered this correctly a screen titled Stage Selection will appear that allows you to pick your starting stage.
Secret Area In 1-2
In World 1 level 2, there is a secret area in the cave that takes you to a hidden route and levels. In the cave, make your way to the egg that has a card of spades in it, grab it and get on the Red Dinosaur (may look a different color depending on the game version or where you are playing it). This red dinosaur will allow you to walk on lava and is needed to get to the secret area so make sure not to lose it. Head to the 4th platform from the spade card egg and this platform will be sitting in the middle of the lava with a pile of skulls on it, go under it in the lava, and press B to spit his fireball in the middle of this platform. This will open up an entrance to a secret area full of rewards and an exit that says "SKIP", if you head through skip it will bring you to a secret level 1-A that is in the middle of the ocean.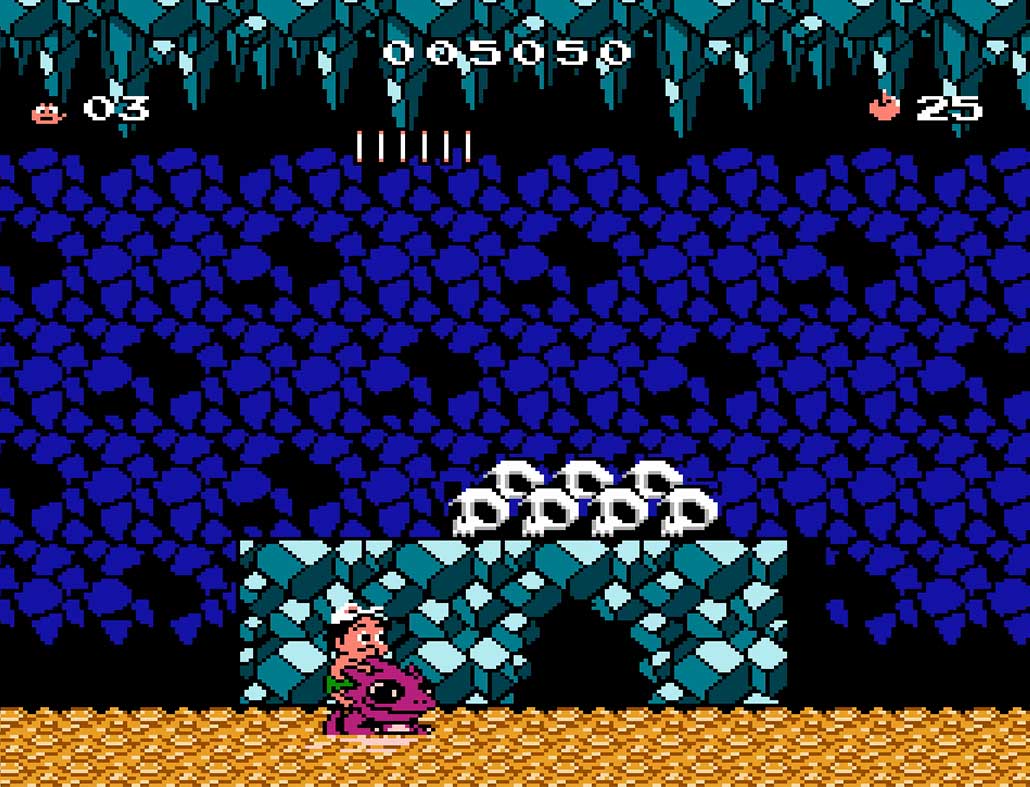 Adventure Island 3 Game Genie Codes
The following cheat codes are for Game Genie. These can be used on a Nintendo Entertainment System (NES) with a Game Genie device or you can use these on any emulator that supports Game Genie Codes. If you want a Game Genie Device, you can always check on Amazon for one.
| Cheat Effect | Cheat Code |
| --- | --- |
| Infinite bee | STSNPUAY |
| Infinite health | SXOYOSVK |
| Infinite items | GXZUGP |
| Infinite lives | SXNLISSE |
| Infinite power ups | SUUUGOSO |
| Invincibility | EIOXYPEY |
| Start with 7 lives | TESZAALA |
| Start with 9 lives | PESZAALE |
| Start with 2 Axes | VTNZGESE |
| Start with 2 Blue Taylors | VTVZIESE |
| Start with 2 Boomerangs | VTNZPESE |
| Start with 2 Classies | VTVXAESE |
| Start with 2 Don-Dons | VTVXLESE |
| Start with 2 Invincibility Crystals | VTNZYESE |
| Start with 2 Poleys | VTVXTESE |
| Start with 2 Red Taylors | VTVZZESE |